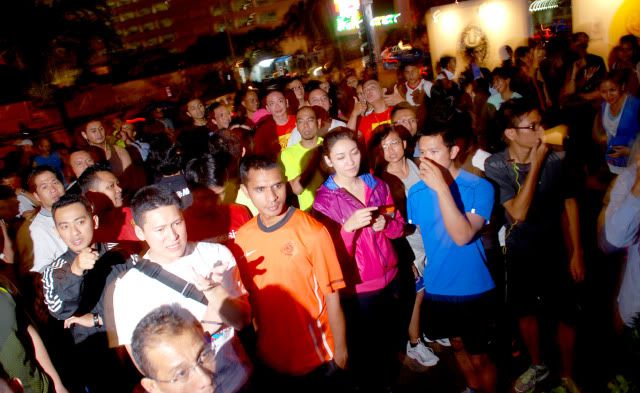 The launching event of hoodie jacket AW77 "More Than a Night Run" get more than 220 partiscipant. They were all involved in making donations to the victims of Merapi through the sports that they enjoy doing.
Jakarta, 22 November 2010 – Nike Indonesia launched the latest run product hoodie jacket AW77 in an unique event called "More Than a Night Run." The event is unique because unlike the typical product launch, Nike event invite people as much as possible to participate directly to give donations for victims of Merapi, not in cash money but in the form of exercise.
"More Than a Night Run" that was held at the Capocaccia Restaurant Pacific Place, invites the participant to do a sport on special tracks around SCBD – Sudirman with their most preferable sport activities such as running, biking or skateboarding. Each distance participant covered will be converted by Nike Indonesia into cash money which will be donated to casualties of Merapi.
Dyah Oetari, Country Marketing Manager, Nike Indonesia said, "More Than a Night Run is a special initiative that was held as a form of empathy for our country being affected. In this event we want to allow everyone to participate and be involved to donate their exercise activity to the victims of natural disasters. We are very pleased to see a very positive response from the citizens of Jakarta."
Track which is provided around the SCBD approximately 2 kilometers, and each participant is welcome to do rounds in the form of running, biking or skateboarding. Each round will be calculated by Nike and converted to Rp. 135.000. The length of time provided 30 minutes from 20.30 am to 21.00 pm and participants are free to do as many rounds during a specified time.
The event was also enlivened by the presence of the influencers in the sport run like Sigi Wimala and P Double, also Graffiti artist like Sanchia and Darbotz that the design will be used as an iconic product from Nike AW77.
The event was successfully to attract more than 220 participants and accumulation of the lap that they doing as much as 418 km which have been converted in cash amounting to Rp. 27 million.
The donations are then delivered on Sunday, November 21, 2010 at Nike Indonesia office, directly given to one activist evacuation of Merapi, Aki Niaki.
"We directly gave the donations to an activist who is currently taking care of a post at Candi Sari where there are 2000 refugees of Merapi. We believe the utilization of these funds will be delivered directly to victims and significantly help the region," added Dyah Oetari.
Text: Nike Indonesia Press Release
Doc: Nike Indonesia & Dieyan E. Bernard
(GeeksBible)